Lockdown Birding
<< Back to listing
26th June 2020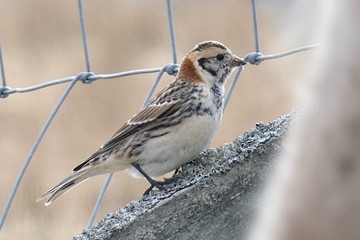 We are fortunate that the website collects information from Skye, Lochalsh, and parts of Lochaber including the Small Isles. During the course of the lockdown we held a competition for the best bird find during lockdown. The main rules were that any rarity had to be accepted by the rarities committee if that applied, and the record was obtained in accordance with lockdown rules, either in gardens, on local walks, or during essential work. I drew up a short list of 15 records - 8 of these were seen in or from gardens including Hawfinch, Nuthatch, Tree Sparrow and Rosy Starling. Three were seen on local walks - Marsh Harrier, Curlew Sandpiper and Garganey. A Lesser Whitethroat was heard singing from an office and several other reports were made be essential workers either at work or travelling to work. An independent panel of jodges has now announced:-
1st Lapland Bunting on croft at Harrapool - Neil (the post) Bennett on his rounds.
2nd Shore Lark in garden at Elgol - Aneta MacDonald from her living room.
3rd Curlew Sandpiper at Traigh, Morar - Stephen MacDonald on a local walk.
4th Stock Dove at Kinloch, Rum - Sean Morris from his garden.
All a bit of fun but from a birding perspective, the lockdown happened at a time when lots of birds were arriving to breed or passing through, and mostly in good weather and nobody was put at risk - stay safe out there and enjoy whats on your doorstep.
Bob