2017 - A Big Year
<< Back to listing
30th December 2017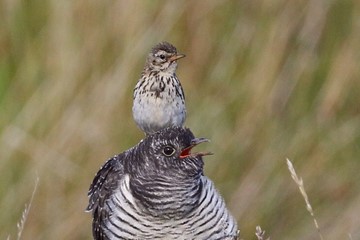 I have never been much into listing apart from a local Skye List. However, with a significant birthday reached in 2017 I decided for the first time to keep a Scottish Year List. Though most species have been recorded in the Highland area, it has been helped by trips to south-west Scotland, Islay, Fair Isle and Shetland, and of course a few visits to the Western Isles. As we put the old year to bed my Scottish Year List sits at 219.
Whilst 2016 had been an exceptional year on Skye, 2017 was if anything disappointing. The only new species I managed to record was a Jay, a first for Skye though birds have been recorded previously in Lochalsh, and a Mandarin duck, only the 2nd for the area. As always, we were away on holiday when Carol Benson found a Great White Egret in Broadford Bay. Otherwise, a great deal of effort was made by several people for fairly limited reward in terms of rarities. The Highland area faired better and the pick included Woodchat Shrike in Strathdearn, Shorelark at Coull Links and a superb Roller at Durness. Trips to Barra produced a Night Heron and one of the major megas of the year, an American Redstart. Its always great to find new birds and the best finds were a Semipalmated Sandpiper on South Uist with Andy Williams, and more recently a Green-winged Teal at Arturlie, Inverness.
Several of us took a trip to Estonia in early March and the highlights for me were several lifers including Stellar's Eider, Pygmy Owl and Nutcracker. A family trip to Catalonia in April produced my first seen Spotted Crake (heard previously on Skye) with some stunning views – little did I realise that I would have equally good views of a bird at Ayr later in the year. The only other new bird was recorded last month when we visited Germany and managed to see several Ruddy Shelduck.
In case you are thinking life's all about rarities that's far from the case. My Hen Harrier study continues in north Skye and 2017 was the best for fledging success in years, despite some wet weather. Another highlight was a Meadow Pipit feeding a young Cuckoo in our garden, producing an image which went viral, and proving that in birding some of the best moments can be found on your doorstep. Now looking forward to 2018, and whatever that brings, and maybe even another big year!
Bob