Breeding Bird Survey (BBS) on Skye
<< Back to listing
16th May 2017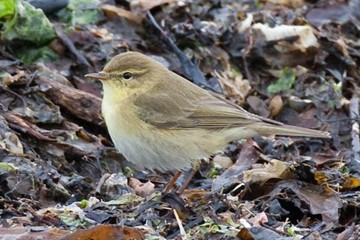 The Breeding Bird Survey (BBS) is funded by the BTO, JNCC and RSPB and data collected is used in research as well as trend production for 111 species across the UK. Around 3,700 randomly allocated 1-km squares are surveyed each year across the UK. Volunteers visit their allocated squares just twice a year between April and June, four weeks apart to walk two 1-km transect routes and count the birds seen and heard either side of the transect route. Bird and basic habitat data from the square is then entered online or submitted on paper to the Regional Organiser.
In Scotland, the Breeding Bird Survey has revealed species such as Willow Warbler (see image), Cuckoo and Whitethroat are faring better than in England, species such as Chiffchaff and Blackcap have increased by 550% and 465% respectively since 1994. Unfortunately, it is not all good news; both Curlew and Lapwing down by 57% since 1994. This illustrates the importance of collecting information on bird populations, so that we have the relevant information for decision makers, researchers and those setting conservation priorities.
On Skye there are now a total of 26 randomly allocated 1km BBS squares, and 11 are not currently being surveyed. We are looking for more volunteers to take part in this incredibly valuable survey and contribute to our knowledge of the species living and breeding in Skye. The free squares are listed below. If you live close to, or can visit, one of these squares and can spare two mornings between now and the end of June please contact Carol Hawley bto.skye@gmail.com (Regional Representative and Organiser of BBS on Skye). More information on the survey is available online at www.bto.org/bbs and anyone taking part will receive a full information pack with instructions and recording forms included, records can also be submitted on paper to Carol if needed.
NG1649 – Glendale
NG2364 – NE of Trumpan
NG3625 – N of Loch Eynort
NG3932– Drynoch, near Loch Harport
NG4025 – Glen Brittle Forest
NG4473 – Kendram, Trotternish
NG4539 – Glenmore, near Portree
NG4618 – Remote: Cuillins (for a hill walker)
NG5022 – Remote: Cuillins (for a hill walker)
NG6209 – Sleat, N of Kilbeg, S of Tokavaig
NG7323 – S of Kyleakin, N of Glen Arroch