BTO Satellite-tagged Cuckoos
<< Back to listing
03rd June 2013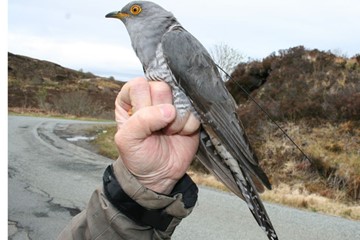 As part of a wider study by the BTO, four Cuckoos have recently been caught and fitted with solar-powered satellite tags at sites in Lochalsh and Skye. Transmitter packs were attached to two Cuckoos caught on the National Trust for Scotland's Kintail Estate, and also to single birds caught at the Trust's nearby Balmacara Estate and the Forestry Commission Scotland's Kinloch property on Skye. This is the third year of the BTO's project to better understand the migration routes and African wintering grounds Cuckoos use, with state-of-the-art light weight technology (less than 5 g) now making this possible in a way that eliminates impediment to the birds.
Cuckoos have undergone a steady long term decline in southern Britain. However, in Scotland, particularly in the north and west, numbers appear to have remained fairly stable and have even increased. BTO staff Chris Hewson, Phil Atkinson and John Calladine, who caught the birds and attached the transmitters, were pleasantly surprised at the numbers of Cuckoos attracted by their decoy bird and recorder calls. Indeed, the four tagged birds plus two females (which are generally too light to carry the tags safely) were caught in a single day.
Cuckoos are one of a number of bird species that used to be common and widespread across Britain but which have declined markedly, especially in the south and east. Being able to follow their individual movements to the Congo basin and back is inherently fascinating. Another important part of this work will be in identifying areas and habitats used by the birds throughout the year, even across years. It will help towards identifying reasons as to why the north and west has become a refuge for these and other species.
The movements of the Lochalsh and Skye birds, along with those from other parts of Britain can be followed at www.bto.org/cuckoos. The bird tagged at Kinloch is shown in the image.

John Calladine
Senior Research Ecologist
BTO Scotland