Have you seen a Buidheag-bhuachair?
<< Back to listing
22nd January 2012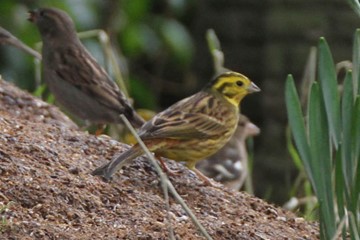 For non gaelic speakers, the literal translation is - have you seen the 'yellow one of the dung or cowpat'? In scots it has been called a variety of names including Yella Yite, Skite, Yaldie, Yallow Lintie, or Scotch Canary. For those still struggling, we are talking about a bird, with a catchy song which goes like this ... "a-little-bit-of-bread-and-no-cheese......". If this doesn't help, then perhaps the name Yellowhammer or Yellow Bunting will be more familiar, or to the scientifically minded Emberiza citronella.
Older members of the community will be extremely familiar with this delightful little bird which was at one time common in the crofting townships. It has been well documented in all the historical reference works as being common in Skye and the Inner Hebrides. It was even breeding in Soay in 1952. When 'Birds of Scotland' was published in 1986 it was described as being widespread and common on Skye, although there were already signs of some decline. Certainly by the early 1990's it had disappeared from a significant number of its former haunts and records have become scarcer and scarcer.
The experience on Skye is by no means unique as the species, has disappeared from large areas of its former distribution, and it is now 'red listed', as of high conservation concern. The main explanation is changes in agricultural practices, and the absence of stubble fields overwinter. This is a seed eating species and grain is an important part of its diet. Changes in crofting practices and the movement away from growing cereals such as oats, has probably been a factor in its decline on Skye. This was a bird which was mainly resident, and it would therefore require food to keep it going through wet and cold winters. Though it can still be found in Lochalsh, the chances of a small breeding population ever being re-established on Skye is probably remote so it is part of our local heritage which unfortunately, may now be lost. Conservationists often make a big fuss about the risks to our 'spectacular' birds. Regrettably, little 'brown' birds, or in this case little yellow ones, do not always figure in our priorities until it is too late.
I wrote this note for the Elgol Historical Society magazine in 2005. I finally managed to see a Skye Yellowhammer at Kyleakin a few days ago - thanks to Hugh and Margaret Scott
Bob